inStream offers two ways to apply investment models or allocations to your client's plan.  If you simply want to apply one allocation to the entire plan, you can select the Total allocation model for your plan.  Click here for more information.
The Account Level Allocation feature allows you to apply a different allocation or investment model to each of your client's accounts.  As a reminder, an allocation model is an asset class based model, while an investment model are security specific portfolio models.   For more information on setting up these models, please review Lesson 1 - Setting up inStream. Please note that the account level allocation feature is not available to use with plans using allocations with custom values .
After your models are set up, you are ready to add a specific allocation to each of your client's accounts.   
1. Go to Profile > Finances > Accounts.
2. Select the account you want to add the allocation to and click the Edit button.
3.  Next, click the + Allocation button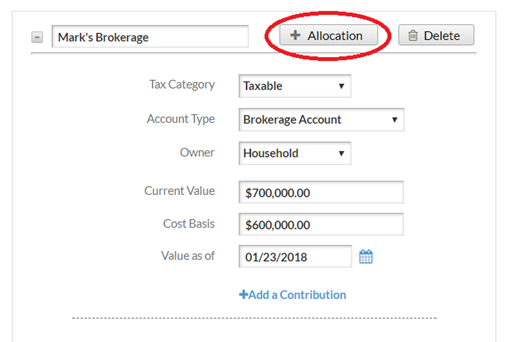 4.  You can now toggle between Account Info and Allocation. Click Allocation.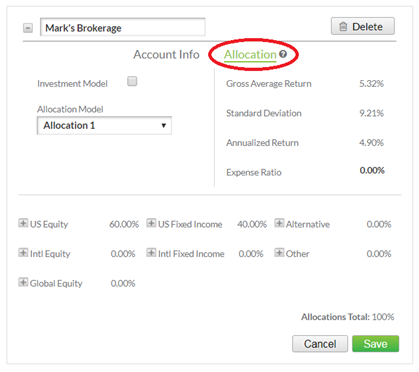 5. An Allocation Model will be set as a default.  In this example, we are going to use an Investment Model so we have checked the Investment Model box and selected the portfolio we want to apply to the client's account.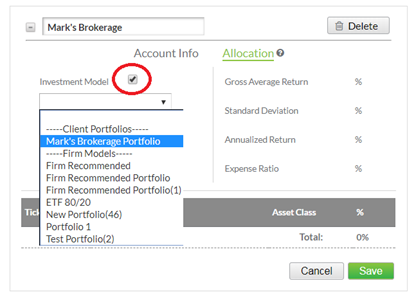 6. The portfolio information will populate then select Save. The Investment Model allocation is now saved to this account.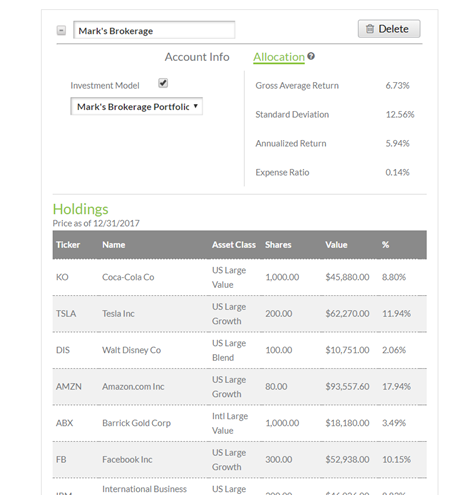 Note: Do not worry if portfolio value and account value are not matching as we are only looking at the allocation percentage.
Creating an Account Level Allocation Plan with Multiple Allocation Periods
Go to the Plans tab and click Create New Plan.
Step 1 of the Plan Wizard allows you to choose between Total Account Allocation or Account Level Allocation. Select Account and complete the plan wizard to Step 3.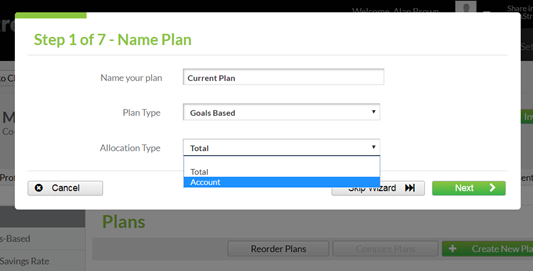 3. In Step 3 of the plan wizard, you can add extra allocation periods. Click the +Allocation Period button and change the name of your allocation periods. Make sure the years are not overlapping.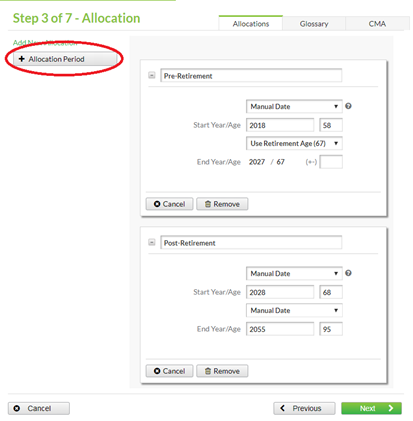 4. In Step 4 of the plan wizard, you can assign a different allocation for a different period. Beside Account Info select the allocation period you created in Step 3 of the plan wizard. Select a different Investment Model. You can do this for all accounts.

5. Finish the Plan Wizard
6. Go to the Allocations tab in the Plan Card. Expand one of the allocation periods. The allocation period displays a summary of the individual account's allocations.