How Do I Keep My Accounts Updated in inStream? 
If an account is linked with your portfolio management system, custodian, or CRM it will be automatically updated every night. If it is a manual account, you will be able to manually update the account value.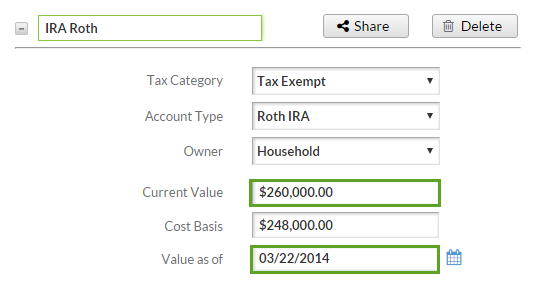 Should I Include Payroll Income in the Plan? 
You should only include a client's payroll salary in a plan if it is being used to meet their goals. It is generally preferable to use contributions for investment accounts to model your client's savings.
How Do I Set a Default Management Fee?
inStream allows you to create your own defaults for management fees. Select the Settings tab and on the Plan Settings section click Default Settings. Within default settings, select the Edit button to add your management fee and click Save.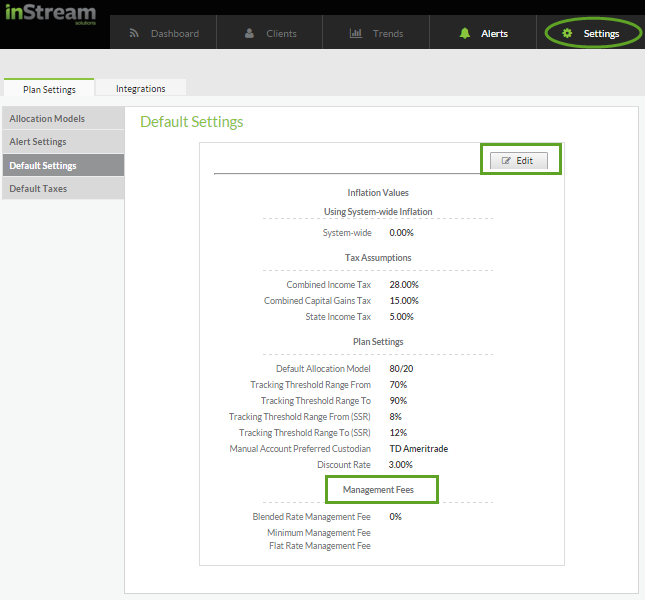 What is a Glide Path?
Glide Paths are one of the many useful tools that you can use in inStream. They are great for planning for a specific objective, such as education or retirement, as they allow you to make changes to the allocations based on age, rather than year. Additionally, they are incredibly useful for creating a quick plan for prospects or a quick scenario plan test. 
To use the Glide Path tool, you must first create a Glide Path. To do so, sign is an advisor, and then proceed to the Settings section of inStream. It is important to note that Glide Paths are advisor specific and are not shared across a firm. 
Next, you must select the Glide Path category, and then click the Add New Glide Path button.

How to Edit Your Alerts Settings?
inStream provides an Alerts via email that will update you on the status of your clients and their plans. Select the Settings tab and on the Plan Settings section click Alert Settings. Within Alert Settings, you can edit your settings for the type of alerts you want to receive. You can select the different Alert Types, the Notifications Options, and how often you would like to receive an Alerts Digest summarizing the state of your alerts.