inStream now has the ability to compare and view multiple plans at the same time. Once in the plan comparison, you have the ability to do many things such as:
Add plan elements
Add scenario elements
Recalculate the plan
Copy an existing or compared plans
Download the plan output
In our example, we want to start with a base financial plan. We want to make a copy of the base plan then make edits to the new plan. We will compare the variables and results side by side.
Click on the type of plan you would like to compare. In our example, we are going to click on the Goals-Based tab. Check each plan you would like to compare by clicking on the checkboxes. Click Compare Plan once you've clicked each plan.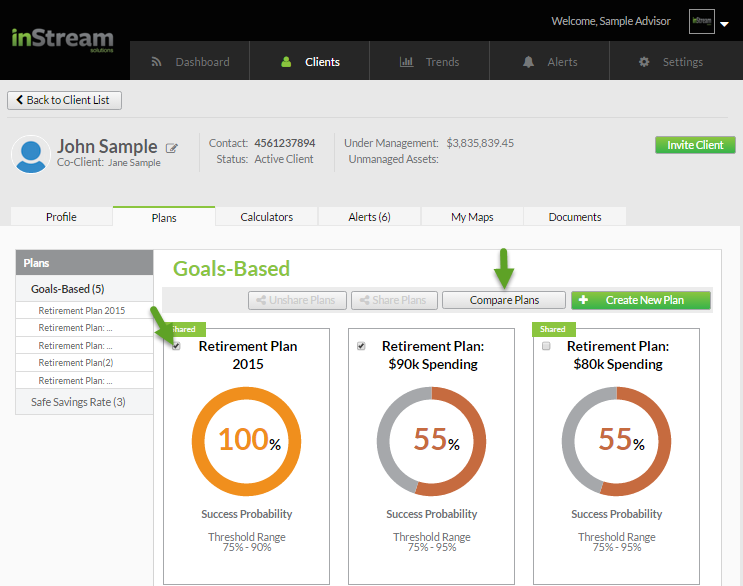 Clicking Compare Plans brings you to the Plan Comparison screen. Click Add Another Plan to either copy or add an existing plan. 
We are going to make a copy of the existing plan that's in the comparison. Click Copy a compared plan and choose the plan from the drop-down. Click Add once you've done that. 
The new copied plan will be displayed right next to the original one. You can tell the difference in the two by the (1) next to the second plan. Now we are going to start making changes to the second plan. Click Edit Variables at the bottom. 
Let's add a new goal to the second plan by clicking Add New Goal. 
A new window will open and from here choose the existing goal, Vacation Home. Click Save after selecting the goal. 
You can see the new goal that was added. Also, you will see "Goals" in the Summary of Changes box. The summary of changes will display which plan elements have been added or changed. 
Next, go to the Accounts tab, and click the Edit button on an account. Let's edit the contribution amount, and click Save Account and make a copy of the account. 
After making that change, click the Calculate button to recalculate the new plan.
A new probability of success score will be displayed for the new plan along with the changes displayed in the Summary of Changes. Clicking View Output will show you the new output for the second plan. You can compare it to the first plan and see the outcomes.