The human life value approach looks at the effect on a family if one person's future potential earnings is lost due to an unexpected death.
Under the Insurance Calculators section you will find the Human Life Value calculator. Click Add a Calculator.
Enter the name of the Human Life Value Calculator and click Add.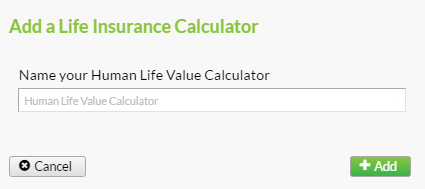 After naming your new Human Life Value calculator, you will be ready to input the necessary data fields to finish the calculation.  When all the fields are complete, click Calculate.
The calculator will show how much your client is under or over insured. To view the calculator's report, click on the View Output button.
If you want to share the output, click on the Download PDF button to get the PDF version.