Do your clients have equity in their home and are looking for some spending cash? Maybe they want to pay for a big vacation or want a little money to renovate their home? A home equity line of credit could be their answer. With the HELOC calculator, inStream has the ability to calculate if your clients could qualify for a HELOC and how much of a credit line they may be able to obtain.
To begin, go to the Calculators tab, select HELOC then click Add a Calculator.

Enter the name of the HELOC calculator then click Add.

After you click add a calculator, the property value and mortgage liability information can be automatically pulled in from your client's profile. If you do not have the property value and liability information in the profile, you can manually enter the information needed into the calculator.  
Make sure you input a Loan to Value (LTV) allowance, the calculator will not work without it. When you have all of the fields complete, click Calculate.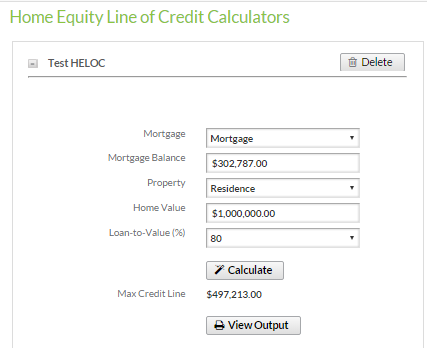 You can now click View Output to view a report of the calculation and Download PDF to present to your client.