inStream's annuity module allows you to model the expected cash flows from different types of Fixed Index Annuities and incorporate those cash flows into a client's financial plan. 
Types of Fixed Index Annuities 
Fixed Index annuity with Free Withdrawals     
Guaranteed Level Income Rider
Base + Participating Income Rider
Fully Participating Income Rider
Note:  Please ensure the annuities defaults have been set up by your firm administrator.  If you are a firm administrator and want more information on setting up the default annuity settings for your firm, please click here.
Adding an annuity to a client profile
After you have adjusted your default settings accordingly, you can now start adding fixed index annuities to your clients accounts.  Follow the steps below to get started:
Login as an Advisor and select the client you would like to add an annuity
Go to the Profile tab and select Finances>Accounts>Add a New Account
Select Fixed Index Annuity from the options available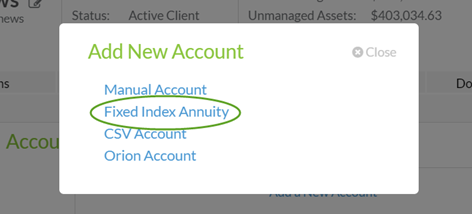 Next, you select the type of annuity you would like to add to the account and input the applicable values: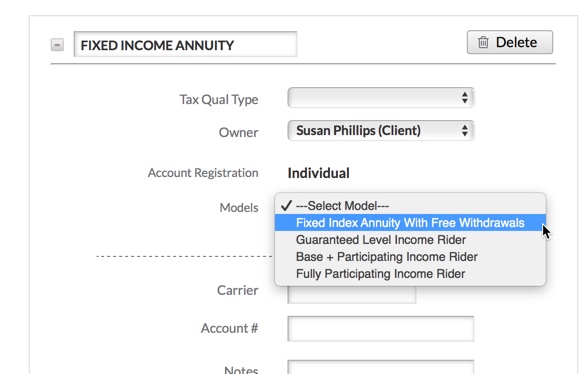 5.  After you save the annuity then you can create a report by selecting View Report as shown below: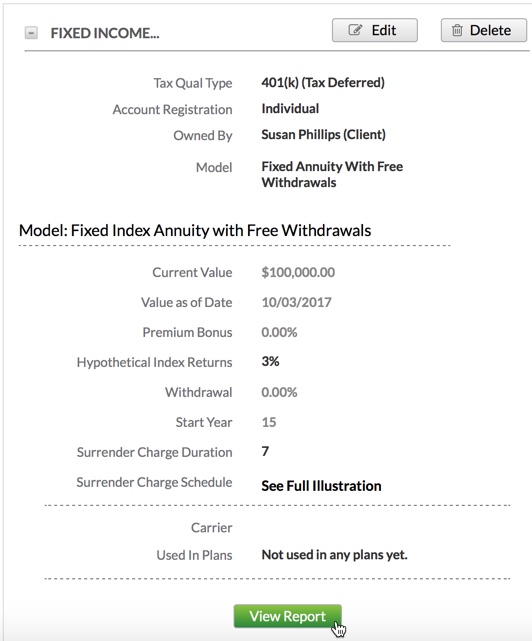 6.  A report will be created.  If you scroll down a bit you can see the highlighted green row which when the payouts will begin.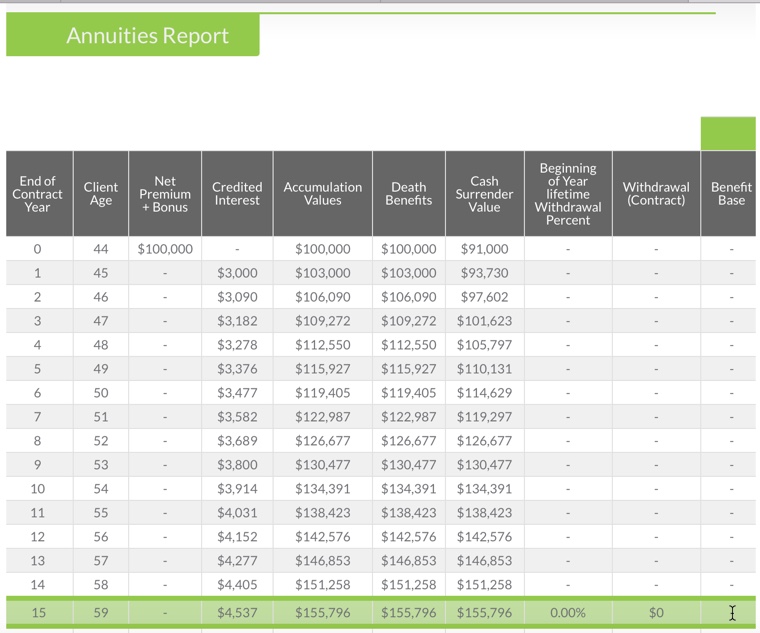 Please note annuity payments will continue until the annuity owner reaches life expectancy.  After this time, the annuities will cease, even if there are still years left in the plan.
Adding an annuity to an existing plan
For your convenience, you can add a fixed index annuity to an already existing plan without having to create a new plan:
Go to the Plans tab
Select the plan you would like to add the annuity
Scroll down and click on Accounts tab > + Add New Account as shown below:
    4. Select from the Add Existing Accounts list or click + Fixed Index Annuity to add a new annuity and fill in the applicable details.  Select Save, then recalculate the plan.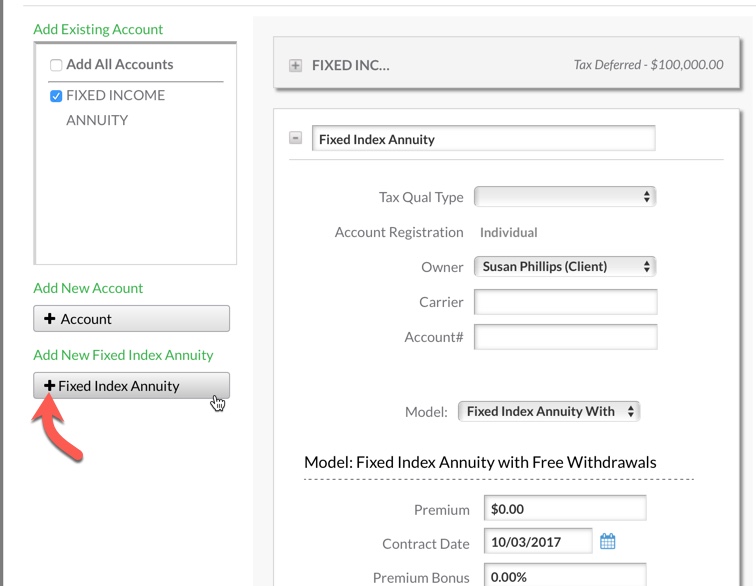 Comparing plans with vs without an annuity
Want to see if adding a fixed index annuity to a plan will benefit your clients?  You can easily compare the same plan with vs without an annuity.  Please follow the steps below:
Go to the Plans tab
Select the plan you would like to compare
Select Copy Plan as shown below and a duplicate of that plan will be created: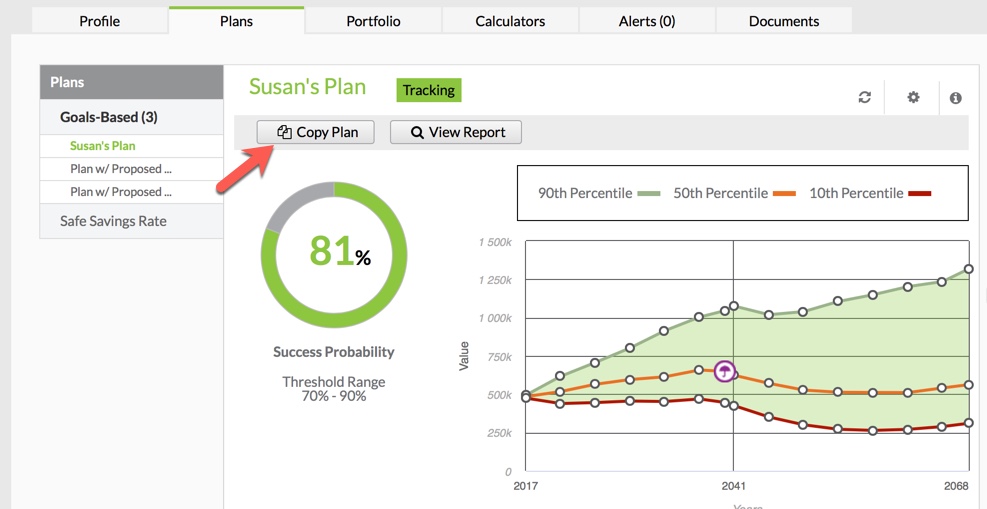 4.  Select the plans and click Compare Plans: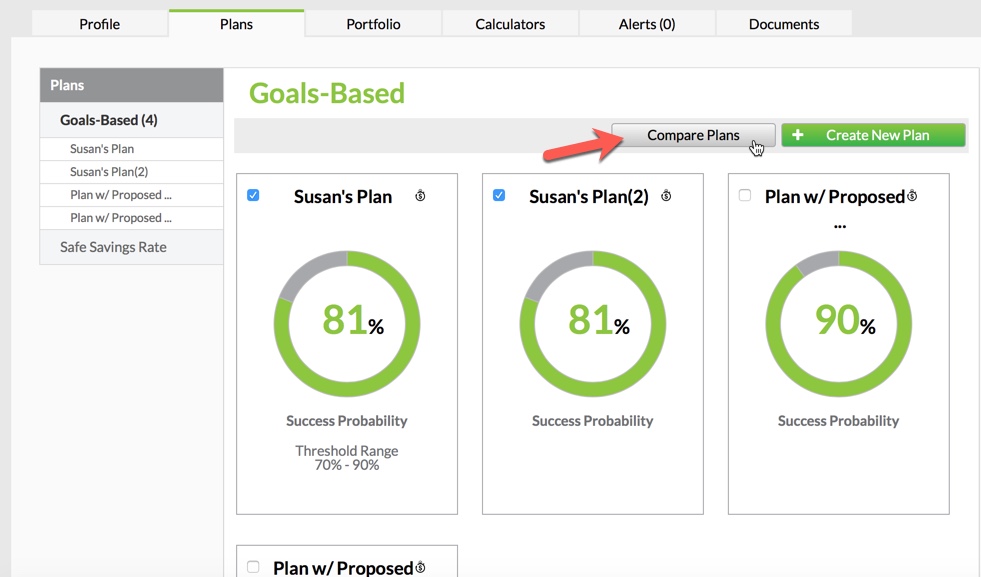 5. Both plans will appear side-by-side.  Click on Edit Variables.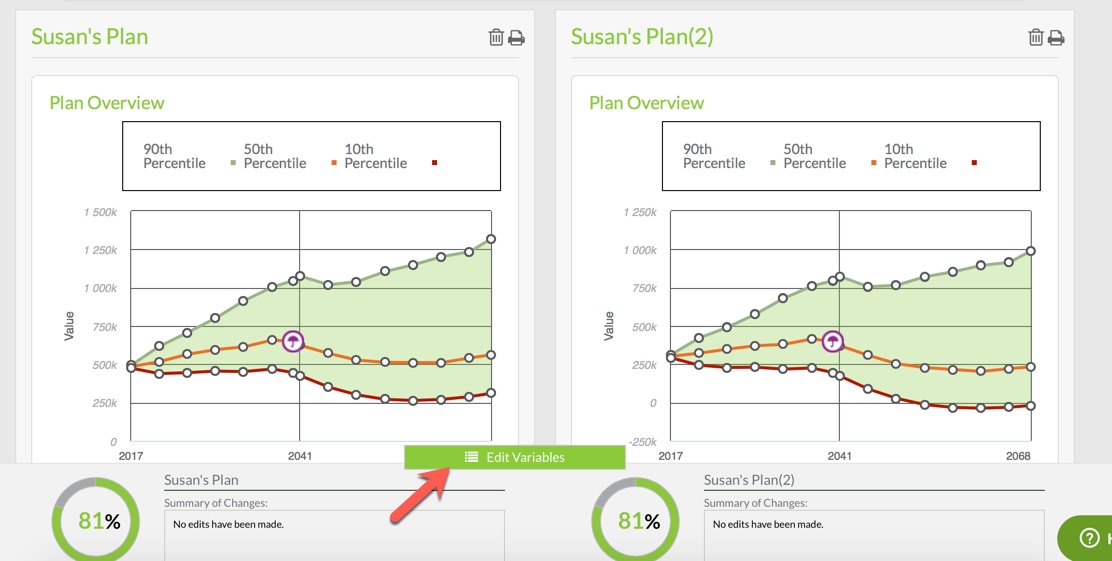 6.  Click on the Accounts tab and select + Add New Account to the plan that you want to add the fixed index annuity: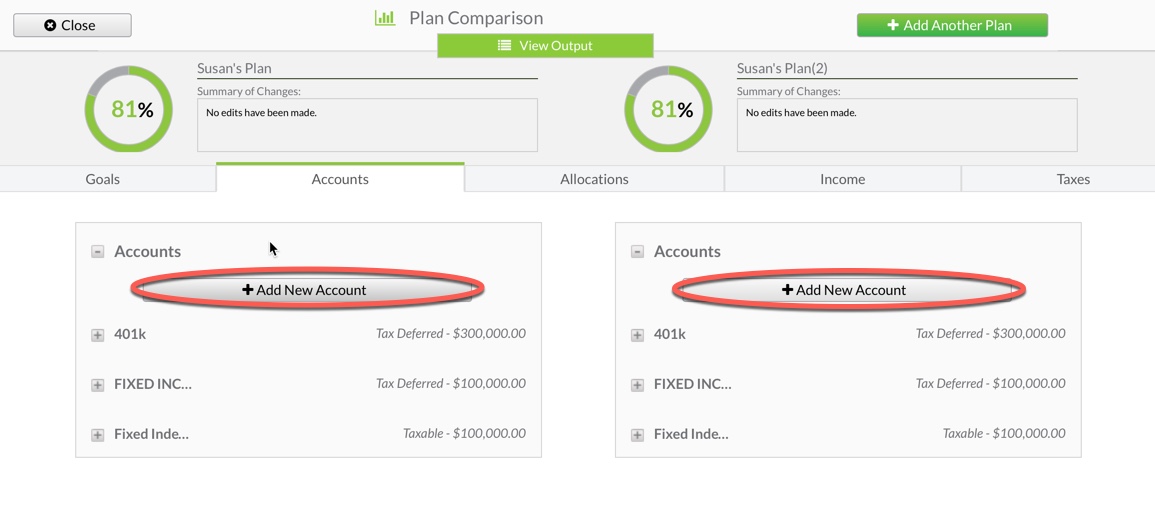 7.  Click Calculate to recalculate the plans